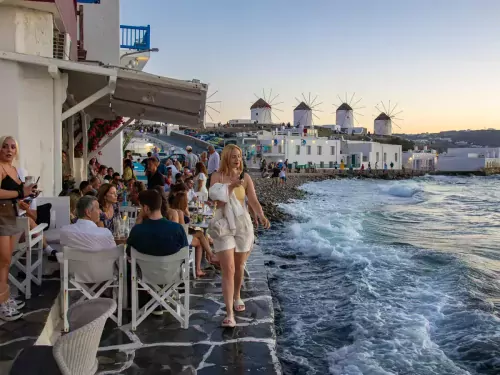 Mykonos is a beautiful Greek island located in the Aegean Sea, known for its stunning beaches, vibrant nightlife, and charming whitewashed buildings. The island is a popular destination for tourists looking for a mix of relaxation and adventure.
One of the most famous beaches on Mykonos is Paradise Beach, known for its crystal clear waters and lively atmosphere. The beach is lined with bars and clubs, making it the perfect spot for a day of sunbathing followed by a night of partying. Other popular beaches on the island include Super Paradise Beach, which is known for its gay scene, and Elia Beach, a more secluded spot for those looking for a quieter experience.
In addition to its beaches, Mykonos also boasts a charming town center known as Chora. The town is filled with narrow streets lined with traditional whitewashed buildings, blue-domed churches, and cute boutiques and cafes. Visitors can wander through the town and take in the island's unique architecture and culture.
One of the most iconic landmarks in Chora is the Windmills of Mykonos. These 16th-century windmills sit on a hill overlooking the town and have become a symbol of the island. Visitors can climb to the top of the windmills for a panoramic view of the town and sea.
For those looking for a bit of history, the island of Delos, located just a short boat ride from Mykonos, is a must-see. Delos was an important religious and cultural center in ancient Greece, and it is home to several ancient ruins, including the Sanctuary of Apollo and the Terrace of the Lions.
Mykonos is also known for its vibrant nightlife. The island's clubs and bars are open late into the night and are popular with both tourists and locals. Some of the most famous clubs on the island include Cavo Paradiso, which is located on a cliff overlooking Paradise Beach, and Paradise Club, which is known for its wild parties.
When it comes to accommodations, Mykonos has something for every budget. Visitors can choose from luxury resorts, quaint hotels, or traditional Greek villas. Many of the accommodations on the island are located in Chora or near the beaches, making it easy for visitors to explore all that the island has to offer.
In conclusion, Mykonos is a beautiful Greek island that offers visitors a mix of relaxation and adventure. With its stunning beaches, charming town center, ancient ruins, and vibrant nightlife, there is something for everyone on this island. Whether you're looking for a relaxing beach vacation or a wild party, Mykonos is the perfect destination.