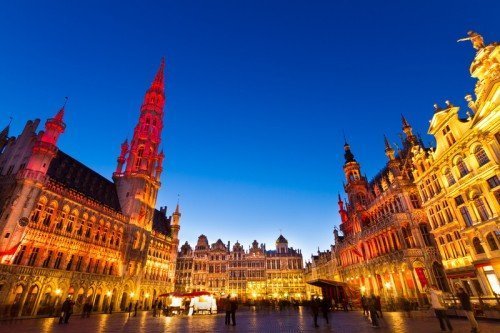 Brussels, the capital city of Belgium, is a vibrant and multicultural metropolis that offers a unique blend of history, culture, and modernity. Known for its iconic landmarks such as the Grand Place and the Atomium, as well as its delicious chocolate and beer, Brussels is a must-visit destination for any traveler.
One of the most famous landmarks in Brussels is the Grand Place, also known as the Grote Markt. This UNESCO World Heritage Site is considered one of the most beautiful town squares in Europe and features ornate guildhalls, the Gothic-style Town Hall, and the stunning St. Michael and St. Gudula Cathedral. Visitors can also enjoy the colorful flower market that takes place in the square every day.
Another must-see attraction in Brussels is the Atomium, a modernist landmark that was built for the 1958 Brussels World's Fair. This steel structure, which stands at over 100 meters tall, offers visitors a panoramic view of the city from its observation decks.
Brussels is also famous for its delicious chocolate and beer. The city is home to a number of chocolate shops, such as Pierre Marcolini, Godiva, and Neuhaus, that offer a wide variety of chocolates made with high-quality ingredients. As for beer, Brussels is a beer lover's paradise, with a wide variety of local brews on offer. Visitors can enjoy a traditional Belgian beer at one of the many bars and pubs in the city, such as Delirium Café or Moeder Lambic.
In addition to its famous landmarks and delicious treats, Brussels is also home to a number of museums and art galleries. The Royal Museum of Fine Arts, for example, houses a collection of over 20,000 works, including paintings by famous Belgian artists such as Rubens and Ensor. The Museum of the City of Brussels, on the other hand, offers a glimpse into the city's history and culture.
For those interested in architecture, Brussels has a number of interesting buildings to explore. The Art Nouveau architecture style is particularly well-represented in the city, with buildings such as the Horta Museum and the Cauchie House showcasing this unique style.
Beyond the city center, Brussels is surrounded by charming neighborhoods worth exploring. The trendy Sablon neighborhood is known for its antique shops and art galleries, while the trendy Ixelles neighborhood is home to a number of trendy bars and restaurants. The European Quarter, which is home to the headquarters of the European Union, is also worth a visit.
Overall, Brussels is a city with a rich history and culture, and offers visitors a unique blend of old and new. Whether you're interested in history, art, architecture, food, or just soaking up the atmosphere, Brussels is a destination that is sure to leave a lasting impression.