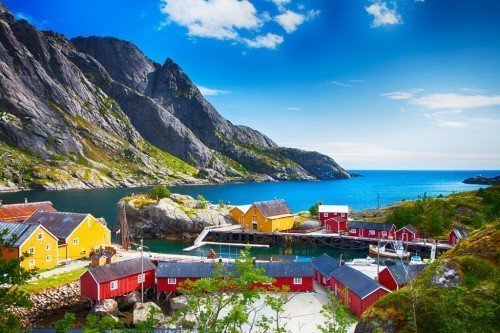 Norway is a stunning country filled with natural beauty and rich cultural heritage. From the majestic fjords to the bustling cities, there's something for every type of traveler to enjoy. Here are some of the top tourist destinations in Norway that you should consider visiting:
Fjords: Norway is home to some of the world's most breathtaking fjords, including the UNESCO World Heritage-listed Nærøyfjord and Geirangerfjord. These narrow inlets of the sea surrounded by towering cliffs and cascading waterfalls are a must-see for any visitor to Norway.

Oslo: The capital of Norway is a vibrant and modern city with a rich cultural heritage. Visitors can explore the city's many museums and art galleries, including the Munch Museum and the National Gallery. The city's lively nightlife and delicious seafood restaurants make it a great destination for travelers of all ages.

Bergen: Known as the "Gateway to the Fjords," Bergen is a charming coastal city with a rich history. Visitors can explore the city's UNESCO-listed Hanseatic Wharf, take a scenic cable car ride up to Mount Fløyen, or take a boat tour of the nearby fjords.

The Lofoten Islands: These rugged islands in the Arctic Circle offer some of the most dramatic landscapes in Norway. Visitors can go fishing, hiking, or skiing in the winter and witness the phenomenon Aurora borealis.

Tromsø: This city is the largest in Northern Norway and is a great destination for those interested in the Northern lights. Visitors can also take a cable car to the top of a nearby mountain for panoramic views of the city.
These are just a few of the many tourist destinations in Norway that are worth visiting. Whether you're interested in nature, culture, or adventure, you're sure to find something that appeals to you in this beautiful country.